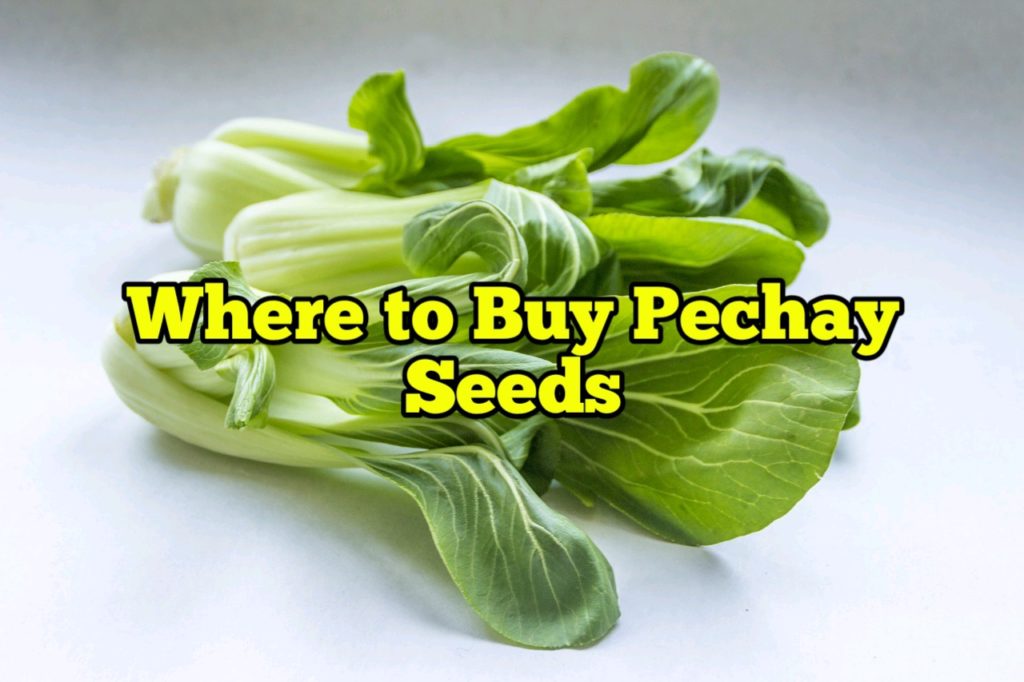 Where to Buy Pechay Seeds
Somebody asks, "where to buy pechay seeds?" There are many establishments where you can buy pechay seeds. An establishment that are authorized in selling and distributing seeds to their customers. Most of them are well known not only in one country but worldwide.
In buying pechay seeds, everyone wants the quality. Quality seeds have a high percentage of germinating. No one wants poor seeds. When you get those quality seeds, you can assure that they will germinate and grow in a better way. And to do that you need to look for the best place to buy those seeds, so. Here is the answer to the question of where to buy pechay seeds.
Agriculture Store
An agriculture store or agrivet or agricenter is an agriculturally oriented shop where they are selling agriculture-related products such as gardening tools, fertilizer, pesticides, herbicides, feeds, and also seeds.
A business person or a cooperative can run an agriculture store. In that store, you can buy high-quality pechay seeds. A pack of pechay seeds may cost around $1 to $3. A pack may contain about 50-200 pieces of pechay seeds.
It is an excellent place to buy because they sell high-quality products, and you can purchase related tools that may help you build your pechay garden. Some cultivating, digging, watering, and other tools can buy from them.
Ramgo Seeds
Ramgo International Corporation was established in 1966 by Ramon A. Ong, a well-known Filipino farmer who always looks for a reliable source of high-quality seeds at a reliable cost. Because of that reason, he established a corporation that will help the Filipinos in getting plant seeds primarily. The Corporation also provides fertilizers, plant protection, organic fertilizers, garden supplies, and packed seeds.
In this corporation, you can buy high-quality pechay seeds. You will be satisfied with their product and expect a high percentage of germination. Aside from that, you can buy some tools from them that will help you germinate the seeds. You need some pots or plastic bags to grow pechay in urban places.
Create a beautiful garden using the seeds coming from them. Buy a pack of seeds and then start growing them. An average of $1-$3 per pack with 50-200 seeds may you get at an affordable price.
Thegiftfarm.ph
The gift farm is also an online store where you can buy pechay seeds. They sell many different varieties of seeds, and you can buy per pack, which has lots of seeds.
It is better if you buy more packs and get a discount. Also, you will not regret it if you buy from them as they provide high-quality seeds which can help you to create a beautiful garden.
The gift farm has many offices in the Philippines, as listed below;
Davao City:
Davao City Head Office
Malagos Farm, Malagos Calinan, Davao City
Victoria Plaza Mall, Davao City
Abreeza Mall, Davao City
Manila:
Amazon
Amazon is an international online store. They are high authorized store and sell millions of products across the globe. They provide a quality product for every customer. You can also buy pechay seeds from amazon.
There are people or businesses selling quality seeds that you can buy at an affordable price. Also, you can purchase some tools which can help you to organize your seeds or buy tools that may help you in growing your garden.
You can buy groups of tools or seeds and receive some discount from them. The products that you will get are high quality and be happy as we deserve.
Ebay
Ebay Inc. is an American multinational e-commerce corporation based in San Jose, California, providing high-quality products. You can buy from the high-quality seeds which are best for planting. From them, you can purchase pechay seeds in a pack.
You can pay through Paypal or any available payment option. When you buy seeds from them, you can choose what kind of seeds and how many packs. They will provide high-quality products which that the customers deserve.
You can buy pechay seeds from eBay, which can cost around $1-$5, and add some shipping fee. The products may arrive based on how far your location is. Be happy as your seeds come.
Lazada
Lazada is also an international e-commerce company that provides high quality and affordable products. In lazada they are selling many different products, including seeds.
You can buy pechay seeds in lazada at an affordable price. You will be satisfied as to the product they are selling are high quality and provide the best product. Buy seeds and be happy. Buy other items that may help you in building out your entire garden.
Shopee
Shopee is also an online store that provides quality products. You can buy gardening tools and equipment which are high standard, and you will be satisfied with what product they are selling. You can purchase pechay seeds at shopee at an affordable price. When the seeds arrive, you can see how quality they are, and you can use them to grow your garden bigger.
Also, you may see some other seeds from them, and you can also buy some of them.
Thank you for reading this article about where to buy pechay seeds.