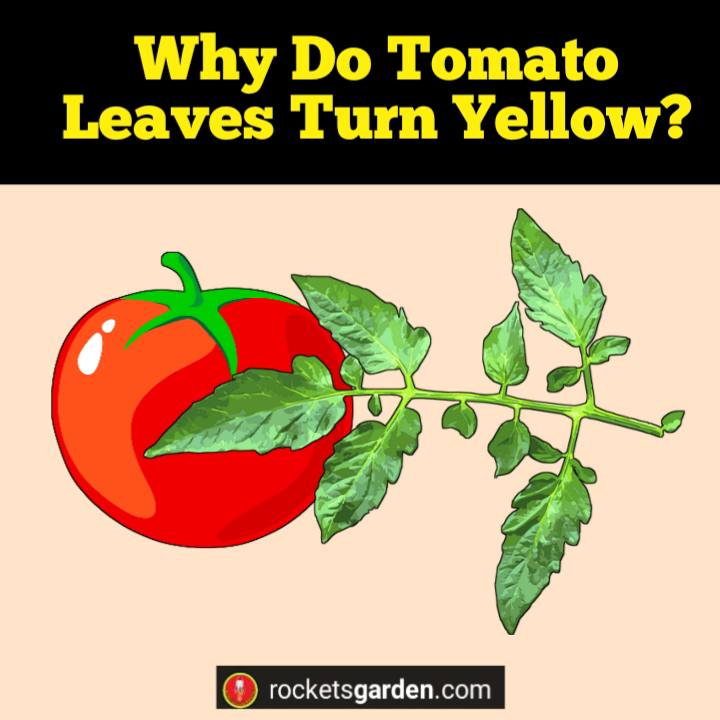 Why do tomato leaves turn yellow? Tomato plants are one of the most popular plants grown by gardeners around the world. The fruits coming from this plant can be consumed in many different ways. You can use the fruit and mix it with other dishes.
The dishes will have a great taste once the tomatoes are mixed. Some people like cooking eggs with tomatoes which is awesome. That is why there are people who make a tomato garden in their yard. But there are times that the plant will show some problem and it must be fixed like the yellow leaves.
Why Do Tomato Leaves Turn Yellow?
The tomato leaves turn yellow because of lack of water, overwatered, lack of nutrients, improper fertilization, lacking sunlight, transplant shock, damaged roots, pests, diseases, and aged leaves.
Those are the possible reasons why you are seeing yellow leaves on your tomato plants. If there are many yellow leaves on the plant, it will affect its growth. The leaves work to make food for the plant and if it doesn't function well the tomato will grow poor.
Lacking Of Water Can Cause Yellow Leaves On Tomato
The tomato plants need one to two inches of water per week. The amount of water given to the tomato plants may also vary depending on the climate and the moisture of the soil.
When the weather is too hot for consecutive days which last for a few weeks, you need to give the water more often to your plants. It is because when the weather is hot, the soil dries quickly and the water evaporates faster. The plant will not be able to get water from the soil.
Lack of water will cause yellow leaves and wither on the plants. To make your tomato plants look fresh and grow well, you need to water them regularly.
Overwatered Tomato
Overwatering can be a cause of yellow leaves on tomato plants. Overwatering can happen when the gardener gives too much water and the plant cannot handle it.
There are small tomato plants and they need a little water which can help them thrive well. When those tomato plants grow bigger, an increase in the amount of water given to plants is needed for them to grow consistently.
When rainfall is abundant, you don't need to water tomato plants. It will make the plants over water if you will add additional water to the plants. Aside from yellow leaves, some tomato leaves curl. You need to make good waterways to prevent your garden from getting flooded.
Lack Of Nutrients
Giving enough nutrients will make the tomato plant lifespan in a good shape. Having a garden with rich nutrient soil will make your plants bear more flowers and fruits. And when there is a lack of nutrients some problems show like yellow leaves.
Lack of iron can cause iron deficiencies in tomato plants. The production of chlorophyll decreases which makes the leaves turn yellow. You need to make sure that the soil is rich in iron so that the leaves will stay green and healthy. You can use a soil testing tool to check the soil quality.
Improper Fertilization
Sometimes giving too much fertilizer to tomato plants happens. When the amount of fertilizer given to the plant is much higher it can cause some problems to the plant like having yellow leaves.
You need to give the right amount of nutrients to the plant especially if you are using chemical fertilizer. The chemical fertilizer can cause burns to the plant and can affect the overall growth of the plant. It is better if you are going to use organic fertilizer in your garden.
Lacking Sunlight
If you are growing tomato plants outside then a lack of sunlight will less likely to happen. The sunlight is more available outside than inside. Most of the tomato plants are planted outside and the cause of yellow leaves is because of the lack of sunlight becoming less from happening.
But some people grow tomatoes in pots and they bring them inside. They place those pots near the window or areas where the sunlight is available. By doing that the plants will still get enough sunlight along their journey.
But there are some areas in the garden where tomato plants don't get enough sunlight and it causes yellow leaves. The tomato plants need sunlight for at least 6 hours per day. It is enough for them to make their food. You need to find a good spot to make your garden to help them thrive well.
Transplant Shock
Sometimes when you grow tomato plants and you transfer them to another container yellow leaves may appear. When newly transplanted plants have yellow leaves, the tomato plants may suffer from transplant shock.
You need to be careful in transferring your tomatoes so that they will grow better and will not suffer from any problems. Most of the time tomato seedlings are being transplanted when they are still young but have enough size.
Damage Roots
When the roots of tomato plants get damaged, the yellow leaves may appear. The root functions don't work well when they are damaged.
When heavy rain comes and your plants get flooded, root rot may happen which damages the roots. You need to make a good waterway to prevent flooding.
Pests And Diseases
Pests and diseases can attack tomatoes and cause the leaves to turn yellow. There are many pests and diseases and you need to control them as much as possible to keep tomato plants healthy. Brown leaves on tomato plants are also less likely to happen.
Making your plants pests and diseases free will make all parts of the plant healthy. It will lead to more flowers and fruits that will appear on the plant. A good harvest will come very soon. Good control for diseases and pests on tomatoes is needed to make them safer.
Aging Leaves
It is normal to see yellow leaves especially if those leaves are already old. It is part of the plant's growth for their leaves to change color from green to yellow and from yellow it becomes brown and falls into the ground.
If you are seeing some yellow leaves but very few in numbers then maybe they are just old leaves and you should not worry about that. If you are not confident if those leaves are old or not you can do an analysis of the plant to make sure.
It is great to know why do tomato leaves turn yellow. Finding a solution to this problem is sometimes challenging because many factors might cause it to happen. But once you figure out the main cause, you will feel relief once the problem is fixed.
Caring for tomato plants is really important to make the plant grow healthy and make them produce a lot of fruits. You will have a good harvest when the plant stays healthy.