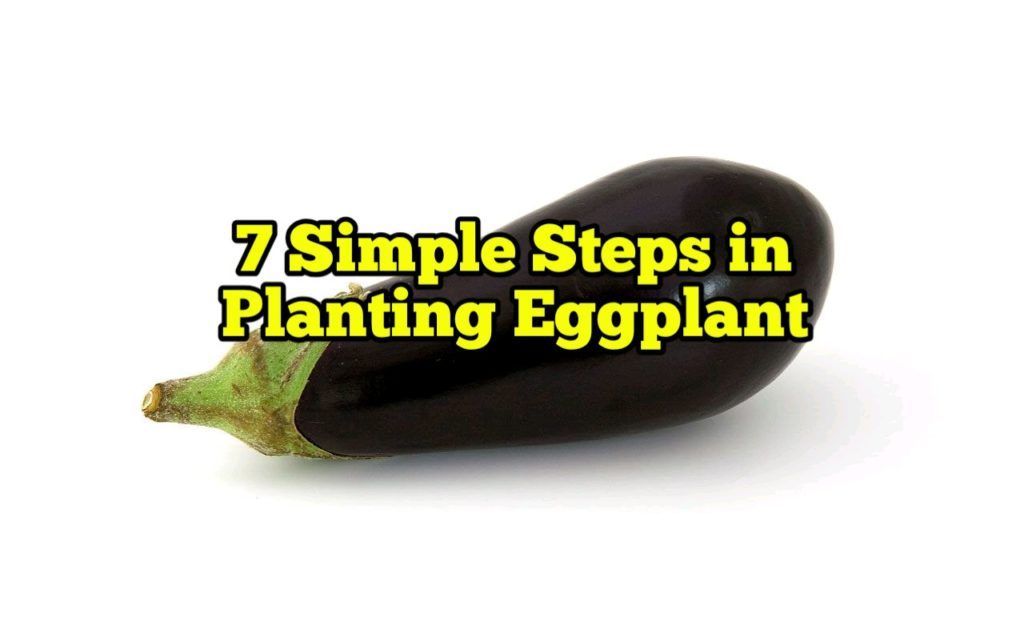 Today, learn the step by steps in planting eggplant. Eggplant is one of the famous vegetables being grown around the world. It is easy to grow, and let us know it below the steps in planting eggplant.
So, what are the simple steps in planting eggplant? To plant eggplant, first, find a location. Then make a seedbox put the eggplant seeds inside, and wait until they germinate. Next is to create a garden plot, then transplant the seedlings. Plant the eggplant seedlings around 3 to 5 inches deep. Water the plants every day and put some fertilizer. After 3 to 4 months, start harvesting eggplant.
Some Information About Eggplant
Eggplant's scientific name is (Solanum melongena). Why is this plant called eggplant? Because it looks like an egg when you see the fruit and plant growth in the garden.
There are different varieties of eggplant, which differ from each other. There are rounded like an egg, shorter, and longer.
The color of the eggplant is violet, and it seems like dark violet when you try to look at it more.
Here are the simple steps on how to plant eggplant step by step.
1. Find a Location
Look for the best location. Speaking of best, you should have these three factors.
One is the availability of sunlight. Yes, because plants also need sunlight to become healthy and improve them like people. Sunlight is the primary food that plants need.
When the eggplant does not get enough sunlight, it will lead to poor health conditions. Look for a place where sunlight is abundant; make sure that the sunlight up the eggplant for at least 6 hours. It will be better if more than that.
Next is the availability of water. Yes, every plant needs it to grow well. The water is the main factor why greenish leaves come out.
When the plants don't get enough water, they will turn yellowish, and others turn brown and then fall.
Make sure that your garden is near the water area where this is your source.
The third is the soil. Every country has a different soil type. Try to examine if you are capable of growing eggplant. If yes, you can, then let's proceed to the following procedure.
2. Pick Quality Seeds
You can buy quality seeds on an agricultural farm or in the market as they give quality seeds that you can grow in your garden.
When growing eggplant, make sure you have great seeds, the main key to your success.
When you have poor quality eggplant seeds, you will grow only a few plants as it is not the right seeds.
So if you are starting a garden, focus on the seeds as they will lead you to improve your gardening.
3. Growing Eggplant From Seeds in Seedbox
Make a seedbox or buy a seed tray in the market. You will use that in turning the seeds into seedlings.
When you have with you a seedbox, what you are going to do next is put some soil on that.
Get soil that has more nutrients so that the seeds will germinate fast. Put the soil in every small box-like container in a seed tray.
After that, use a little stick or the brooms stick and then make a small hole in the soil.
Then put one seed one by one on each box. Cover it with a small amount of soil. And water that after to make sure it will start to germinate. That is how to plant eggplant seeds step by step in a seed box.
4. Make Eggplant Plot
Create your garden plot where you are growing eggplant. To do this, get a tool that will help you cultivate the soil. Grub hoe is excellent. Go to the best location you chose a while ago when you have that.
Then think about what time you will start your gardening. You can do it now if you want and follow the procedure here. Hold your grab hoe and start cultivating the soil. Continue doing it until you finish.
Be careful with the rocks you might hit as it can create accidents, and make sure that the tool you are currently using is in good condition.
Remove the grasses in the soil. These grasses will be competitors in the soil nutrients. So better to remove them.
After that, make it pulverized to plant there more easily and fast. No hindrance in your gardening.
5. Do transplanting
You find a location, pick the best eggplant seeds, germinate it to seedbox, and make a gardens plot. The next thing is to do transplanting.
When you look at the germinated seeds, it turns to eggplant seedlings. The seedlings have few roots, few leaves, and slightly taller height.
When that's the case, you can now do transplanting. Before transplanting, make sure to do it early in the morning or late in the afternoon as the sun does not shine so brightly.
Get your seedbox with you and go to the garden's plot. Get also a trowel you will need this. Start removing the seedlings from the seedbox.
Slightly get the seedlings and avoid cutting the roots. When you have already removed it, get your trowel and make a small hole in the plot.
Make sure that the roots of eggplant seedlings will be fit on that.
After that, cover it with soil. Make more holes and estimate how far to plant eggplants 12 to 18 inches will be enough. After you finish that, get some watering tools and water the seedlings.
6. Put Some Fertilizer
We know that the fertilizer helps the plants grow well as it will make bigger leaves, bigger fruits, and bigger plants.
When an eggplant gets the nutrients it needs, it will turn into that. You can use organic fertilizer, which is best for growing vegetables.
Organic fertilizer consists of decaying leaves, grass, leftover foods, and animal manure.
This kind of fertilizer is best as you give food to the soil. Fertilizer is what the soil needs to help plants to grow well.
Put some fertilizers around the base of the plant. Use a trowel to cultivate a narrow, deep hole and then put it. Do that for the remaining vegetables you have.
7. Water that everyday
Yes, watering your plants is good as you will make and help your plants grow well. The water is the blood life of every plant in the world. As if there is no water, the plants can not live.
In our garden, what we do is vice versa. For example, today, I am assigned to water the plants, and tomorrow, my brother. In that way, it is more amazing and enjoyable because both are helping each other.
You can find another person in your family as it is an enjoyable and stress-free activity. Do it consistently, and the progress will see in a few more days, weeks, and months.
Growing Eggplant
When you do that above, you will see how eggplant grows. Seeing that every day is the best motivation because you notice how it goes.
Help the plants by watering that every day and by applying some fertilizer. In the end, you will harvest that soon.
Growing Eggplant in Pots
Yes, you can grow eggplant in pots. What you need to do is get some containers. Next, put some soil inside. Then grow eggplant in seedbox.
After that, start transplanting to the container. Put some fertilizer and finally water that every day. That's the simple step on growing eggplant in pots.
You can have more pots with eggplant planted inside. Make sure that you put it in a nice place where the sunlight hits most.
Your garden will be unique and more people will be happy because you do a recycling activity by using those bottles or pots in making the garden. You have care to the world to the earth where you are living.
Caring For Eggplant
After you plant eggplant, you should care for it. You already know how to care for eggplant, like watering it every day and applying fertilizers.
But there are more. You are removing pests and insects. Pests and insects can destroy your plants, and you should avoid and prevent that when you see some pest remove it one by one.
But in case there are many of them, apply some pesticides. You can learn to make organic pesticides on the net; search for them, and follow the procedure.
Making your plants free from pests will be incredible. As you asure that it will be healthy. Prevent that and harvest free from pests.
Harvesting Eggplant
To harvest eggplant, you should consider the size, color, and length. Try to evaluate if you can do it based on its variety.
When it is bigger enough and longer enough, you can harvest it. Hold the fruit with use knife and cut it from the base of the fruit.
The mature eggplant, the better. Avoid so young as it is small and not the right time to get it. You can put all your harvested ones in a basket, and you can ask for help from your family like it is enjoying while you are doing it. It is great to know the simple steps in planting eggplant.