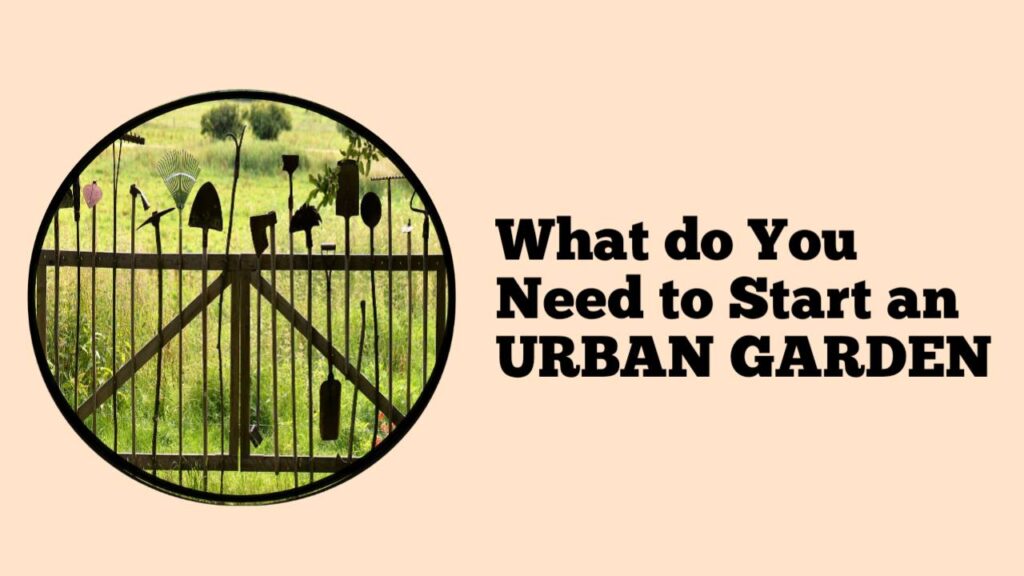 What do you need to start an urban garden. Before we start doing something, sometimes we need thing or things to do it like starting an Urban Garden. Gardening in the city is amazing even the lackness of the soil for planting is very limited. But if you are a very creative person you can make it beautiful.
So what do you need to start an Urban Garden. You need some basic tools like sprinkler for watering, trowel for digging and pots. You need also plants to grow like vegetables, herbs, flower or trees. Fertilizer is also helpful to grow them better.
Before we started making an urban garden we need some useful tools. There are many variety of gardening tools.
There are tools for digging, for watering, for cutting and applying Fertilizer. So without furthermore here are some of the things that answers what do you need to start an Urban Garden.
Digging Tools
You do need digging tools to start an urban garden. These tools will make your work easier and faster.
Trowel
In transplanting, cultivating, and removing some weeds, you need trowel. This simple, light tools will help you a lot. When you are going to make some holes, you need to use trowel.
This simple tool is commonly use. You need to get one in order to make your Urban Garden perfect. The trowel is like a shovel but in a very little size.
Grab Hoe
When you have a little bit big space of soil and you want to make a gardens plot, then you need to use grab Hoe. The Grab hoe or hoe is a gardening tool that will help you.
It has a handle bar and a sharp edge for cultivating. This tool is use to cultivate the soil. To make cultivating easier you need to get grab Hoe.
Rake
After you cultivate the soil you need to level it. There are bulk of soil in the plot so in order to make it fine and perfect you need to use rake. This is like a comb and has a long handle.
This tool may also help you to remove some garbages on the soil and to clean it better.
Shovel
Shovel will also help. This tool is use for cultivating the soil. It is also use in mixing huge amount of fertilizer. This will help you in digging the soil especially in making drainage around the garden.
Watering Tools
You do need watering tools to start an urban garden. These tools will help you in applying water to the plants.
Sprinkler
You need sprinkler to water your plants. Also you can use this to apply Fertilizer. Using a sprinkler you can easily water a group of plants at a time so it will be a great tool for starting an Urban Garden.
Gardening Hose
Gardening hose will also help you, if you don't have sprinkler then hose will help. this will help you to water the plants easily. It has a high pressure and it can water more plants at a time.
Spray bottle
Spray bottle will also help in watering small size plants. This will also help in applying pesticides to treat pests and insects.
Other Helpful Tools
You do need some other helpful tools to start an urban garden. These set of adtional tools will help you even more.
Pots or containers
Well if you are leaving in an urban places or city, the lackness of the soil for planting is very limited. You need some pots or containers where you will grow your plants.
Big or small pots can do. It will varies on how big or small you are going to plant. You can recycle materials. The cans of milk is great because it has a great space inside.
The old shoes will also do because it has a small space but you grow inside small flowers. Or use tires of a vehicle and put soil inside. It will be an awesome way of growing vegetable. Be creative and all will be perfect.
Fertilizer
You need fertilizer. Fertilizer will help the plants to grow better. You can buy chemical fertilizer at the store but we really recommend to use organic fertilizer because it is chemical free and it is good for our environment.
Plants
You do need plants to start an urban garden. Choose what areas you want to work on.
Vegetable
To start an Urban Garden you need plants to grow. And vegetable will be perfect. Commonly people make a garden to plant vegetables. The most common vegetable to grow in a garden are; tomatoes, ginger, onion, garlic, eggplant, okra and many others.
But before you plant vegetable, you need to make sure that the vegetable are suitable to grow in your location. Tropical vegetable will not grow in a cold climate. And also vise versa. Pick the best vegetable to grow in Urban Garden.
Also you need to make sure that it will fit in the container or in the plot that you make. Finally, start growing vegetable and it will be best.
Flowers
In starting an Urban Garden, it doesn't mean that vegetable will be use in planting. You can also use flowers in gardening. You can use sunflowers, bougainvilleas, roses, daisies, orchids, or any flowers that you like.
Flowers make our surroundings beautiful so it is great if you grow flowers. Growing flowers is easy as it needs less care compare to vegetables. Also it doesn't need much fertilizer and water. All around it is great to grow flowers.
Trees
Urban gardening it doesn't mean that it is all about vegetable and flower. It is also about trees. Trees are big that it cannot suit to grow in Pots or container. But there are dwarf trees like papaya trees and citrus.
So you can use these trees to grow in a container. Drums or big container will be best. It is great when you see growing trees in the city.
Herbs
Herbs will be also great. They are small size plant and suitable for a small size pots. The herbs has a nice smell and it will be awesome to grow in an urban garden.
Succulents
Succulents are also great plants to grow in a garden. It doesn't need much water and fertilizer and it will be easy to grow. You need a nice potting soil and a container. Container with a nice drainage is need to prevent stacking of water inside.
Thanks you for reading this article about what do you need to start an Urban Garden. Hope you learn something even as little as possible. More articles in our site and you can browse and look for something really helpful for you. Thank you and good day.